Olymp Trade helps discerning traders earn more money
It is great when you already have one steady source of income, but you can better protect your own financial welfare by earning from two sources of income. There are many ways people can earn some extra money, such as by taking on freelance work or by using foreign exchange reserves (forex) and options trading.
Forex and options trading are excellent ways to supplement your income.
Forex trading allows you to trade currencies against one another. There are trillions of US dollars circulating through this market on a daily basis, making it the largest so far.
Options trading, meanwhile, is a trading method based on forecasting the price of stocks, commodities, indices or forex pairs. While not enjoying the same popularity as forex trading, options trading is one of the simplest forms of trading available today.
There are various platforms on which you can conduct such trading activities, including Olymp Trade.
Olymp Trade is an award-winning financial commission member operating since 2014, which allows users to take advantage of both trading methods while also teaching you how to maximize your financial investments.
It is easy to trade with Olymp Trade. First of all, you must register with the platform. To open an account,you will need to provide your full name, phone number and email address. Upon completing your registration, you will automatically receive a trading account and a demo account with US$10,000 demo money, which will give you an idea on how to conduct your trading activities.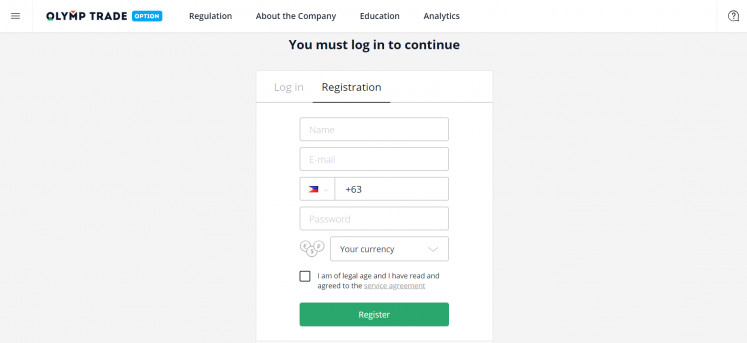 . (Photo courtesy of OlympTrade/.)
Various payment methods: OlympTrade accommodates different payment methods for its users; you can select the method that suits you best. (Photo courtesy of OlympTrade/.)
User-friendly: The Olymp Trade platform is designed in a way which is easy to navigate. (Photo courtesy of OlympTrade/.)
As easy as one, two, three
To start earning more money through forex or options trading with OlympTrade, the first step you need to take is to open an account with the platform, which is very easy to do using your full name, email address and phone number.
After you have opened your account, take your time to understand how the markets work. OlympTrade has a large educational suite that aims to help new investors become acclimated to the markets, tools and strategies they must master to become successful traders.
There are 72 kinds of assets – including currency pairs, stocks, indices, commodities and cryptocurrencies, among others –involved in trading, so it is important to understand how the market operates and how to best operate within it using these different assets.
The platform will also help you understand the different strategies used in trading. Options, for instance, depend on the predictions a trader makes on whether an asset price will rise or fall after a period of time. Forex, on the other hand, relies on currency pairs togenerate profit from an asset price increase or decrease.
Practice with trading simulations using a demo account
It is pretty risky for beginners to start trading and investing in assets as soon as they jump into the business. Therefore, Olymp Trade also allows new learners to practice their newly acquired trading strategies through risk-free simulations made possible by a free demo account provided by the platform.
Simulations provided by your demo account allow you to trade in a realistic manner – the same way you would trade with real money. These demo accounts also feature up-to-date trading quotes, accurate trade result calculations, as well as systems catering to the trading of different assets.
The demo accounts also allow traders to replenish their demo dollar bills, making it possible for them to practice different trading strategies to discover which works best for them.
Existing trading systems give you approximately 20 ways to fill up your account, from using credit and debit cards to e-wallets and cryptocurrencies. You can make your deposits instantly and easily by finding the method that works best for you.
Traders can make a minimum deposit and withdrawal of US$10 through the same payment methods. Withdrawals will be sent to the same account where a trader deposits his or her money. Around 90 percent of these accounts can be created instantly though they can take one to four days to open, depending on the type of account you are interested in.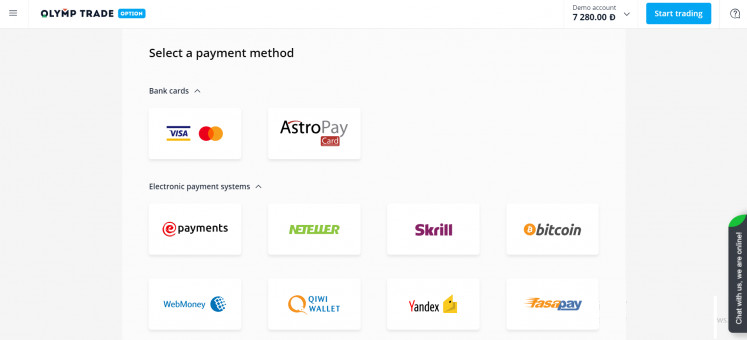 From simulated trades to real ones
The Olymp Trade platform is designed to allow new traders and investors to transition seamlessly from one type of trading to another and also transition from simulated demos to real-life trading activities. The platform is easy to navigate, allowing traders to face these transitions easily. You can also switch the account's mode easily from the drop-down menu where your account balance is displayed; at the top of the window on the right, next to the "make a deposit" button.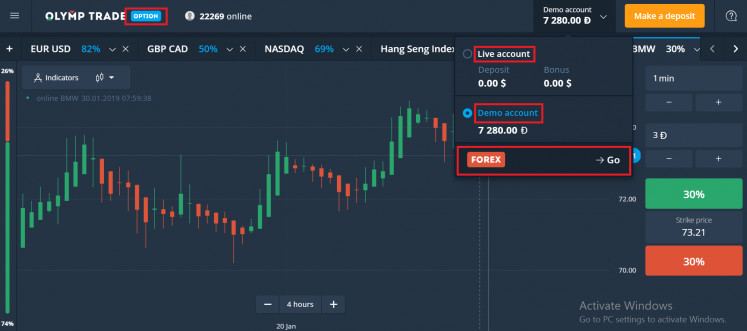 The platform will also display three choices: live account, demo account, forex or options, making it easy for you to switch modes. From practicing with demo dollars to investing real money in live markets or instruments, you can switch functions to cater to your shifting activities.
After practicing with simulations on your demo account, you will have more confidence to trade with real money, which is just a few clicks away.
With the Olymp Trade, you will discover the tools necessary to become a successful trader right at your fingertips. The platform's advantages lie in its intuitive interface and continuously updated education libraries, which give you access to many functions as well as answers to any questions you may have while using the platform.
With these functions, Olymp Trade makes trading simple for everyone. Let Olymp Trade help you change your li
fe.